Frequently Asked
Questions
---
No, Fathom Realty does not charge monthly fees.
Yes. The transaction fee is simply $550 for the first 15 sales and then $150 per sale after that. Residential leases are $85. Commercial transactions are a 90/10 split.
Yes. You will have complete access to your broker, seven days a week. We play an active role in our agents success and encourage our agents to contact us with questions, big or small. Not only do you have access to the broker any time you need, we also have a agent services department in place to ensure we always have someone to answer your questions so you do not have to wait for an answer.
Yes. We offer over 600 online real estate training videos for new and experienced agents. We also offer local and webinar-based training several times per month. For agents looking for more personalized training, we offer one-on-one coaching and mentorship programs.
Yes. We will never tell our agents what commission to charge. We encourage our agents to set their own commission rates with their clients. Today's real estate environment can be very competitive and our agents need the ability to be flexible.
Yes. We offer the flexibility to establish your own team within Fathom Realty. You may set your own commission splits with your team members. Fathom's model is the best model for building a team because you keep more of your commission and that of your team members. Best of all, your team members only pay $550 for their first five transactions and then only $150 per transaction after that. That means more income for your team members even though your split never changed.
Yes! We offer a specialized mentorship program for new agents where we teach you the ropes to being a successful real estate agent. We cover the basics, to include writing contracts, all the way up to more advanced training on how to convert your leads into closings.
Sale- A commission disbursement authorization (CDA) form will be sent to the title company or closing attorney detailing how commissions are to be disbursed. In title states (e.g., TX and CA), you will receive a check after funding directly from the title company. In attorney states (e.g., NC), the full commission check will be sent to the broker and your check will be cut to you from the broker. There are some closing attorneys who will allow table funding and pay our agents at closing but those are on a case by case basis.

Lease- Due to the nature of leases, the full lease commission will be paid to Fathom Realty after which your commission check will be cut to you.
We do have an annual fee or $600 due on the first transaction after your anniversary of each year which is clearly stated on all pages that talk about our plans. There is also a one-time activation fee of $99 when you first join. There are no hidden or franchise fees. The E&O is covered in the annual fee and more importantly, our agents are NOT responsible for paying the E&O deductible (unless they committed fraud which is NOT cool).
At Fathom Realty, when a $250,000 transaction is closed, the commission earned is $7,500 assuming a 3% rate. After subtracting the $550 transaction fee, the total commission paid will be $6,950.
After closing 15 sales and reaching the CAP of $8,250, a Fathom agent would net $7,350 on each additional sale after subtracting the post-CAP transaction fee of $150.
Let's look at it another way. You would have earned $78,750 after paying $33,750 in broker splits with your current brokerage, assuming a 70/30 commission split. With Fathom Realty, you will have made $104,250 after spending only $8,250 in transaction fees, including the one-time annual fee of $600.
That's an additional $25,500 more income per year just by switching to Fathom Realty! Think about what those additional funds could do to close more deals and grow your business. Also, under Fathom's Agent Referral program you can earn stock for referring other agents, and even qualify to CAP4Life or be FREE4Life.
Do you need any other reason to join Fathom today?
Yes and no. We do provide a lead program for select agents in a couple of markets and we are currently in a trial program. We are hoping to roll this out in more markets with time.
Yes. Any lead or client you enter into the lead system belongs to you and that information will never be shared with any other agent. Even if you choose to leave Fathom, you will be able to take your database with you.
You can find business cards, postcards, flyers, listing and buyer presentations, folders, social posts, and more in our online Marketing Center. Many of these resources can be customized with your branding. It's our goal to support your marketing efforts with the best material and resources available.
Agents can download Fathom Realty sign templates from our online Marketing Center.
No. This is how we keep our overhead costs low and provide our 100% commission plan. We do maintain offices in markets that require 'bricks and mortar'. Some of our agents use a portion of the money they save on our commission plans to lease their own office spaces but the vast majority of our agents work from home.
How many clients actually want to drive out to a real estate office to meet? It's usually out of their way and costs them time and gas money. In today's fast-paced environment, it's nice to be able to meet clients near their area of search. Many of our agents meet their clients at a local coffee shop with free WIFI Internet access. If a quiet, professional office is needed, almost all title companies and mortgage companies will let you use a spare office or conference room to meet your client.
No. However, we do host frequent training and social events to build community. If we need to share anything with you then we will email you the information, post it on our Mastermind's group pages, and hold online webinars. With that said, we'd love for you to join us live because you can't build culture in a vacuum.
You can work full time or part time. We do not have sales quotas outside of our agents closing a minimum of 1 transaction per year to remain with Fathom.
The short answer is, Yes.
It typically takes two business days for everything to be submitted and get you onboard with Fathom.
Please contact us and we will provide you with the paperwork you will need to get started and walk you through the process. We know you are busy, so we work to make moving your license as easy as possible.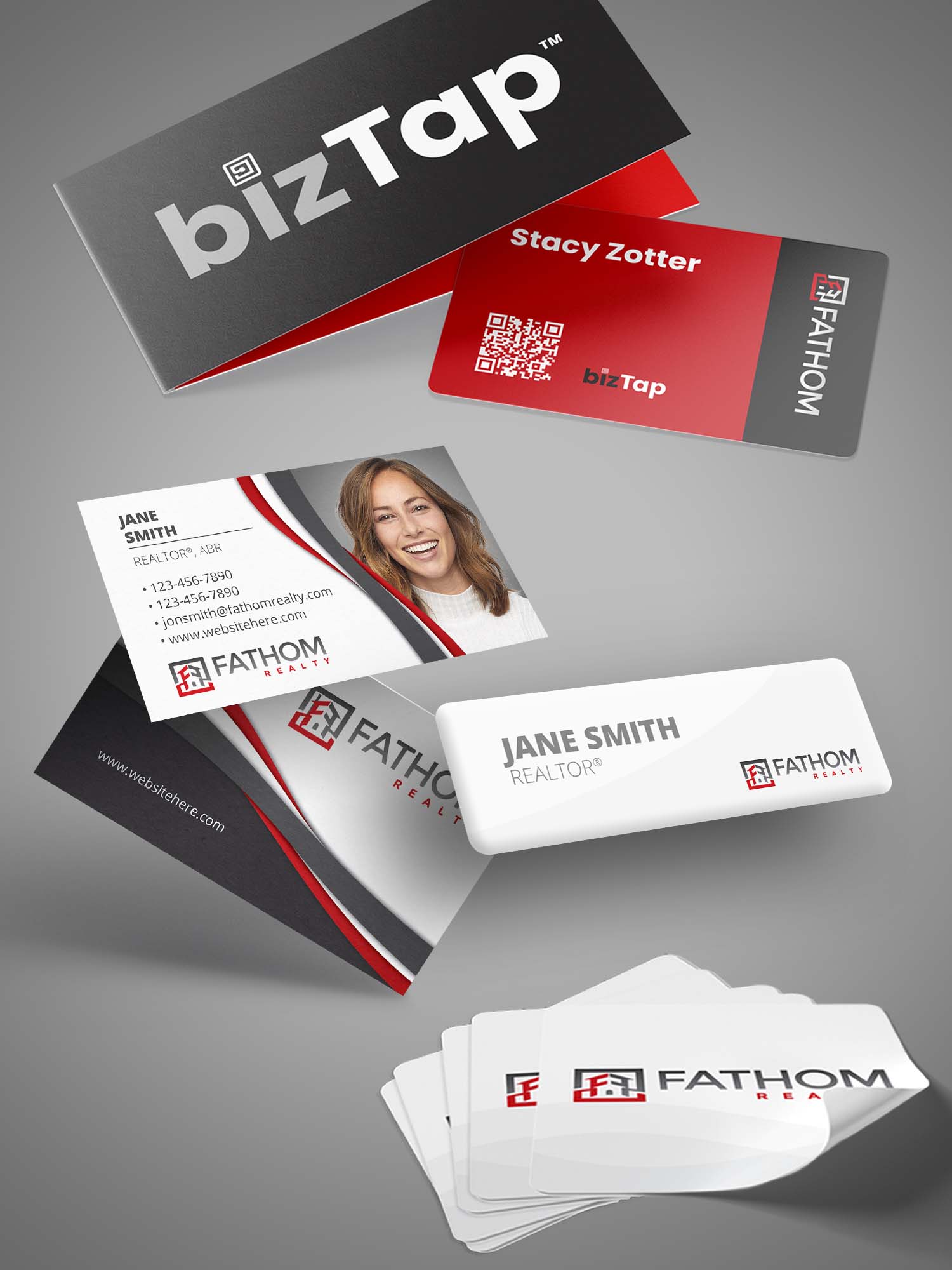 ---
Receive 200 business cards, 1 name badge, 6 Fathom Stickers, and a BizTap Digital Business Card when you join!